Do you want to improve the aesthetics of your smile?
Receive high-quality porcelain veneers in Indianapolis, IN at North Meridian Dental Excellence. Porcelain veneers are a cosmetic dental option that cover the front of teeth to enhance their appearance. When we craft dental veneers from ceramic, they are reflective and look natural.
Dr. Ben Ahlbrecht gives patients high-quality and comfortable care that addresses dental problems at the source. Our dentist in Indianapolis, IN, collaborates with patients to ensure that treatment lines up with their specific needs.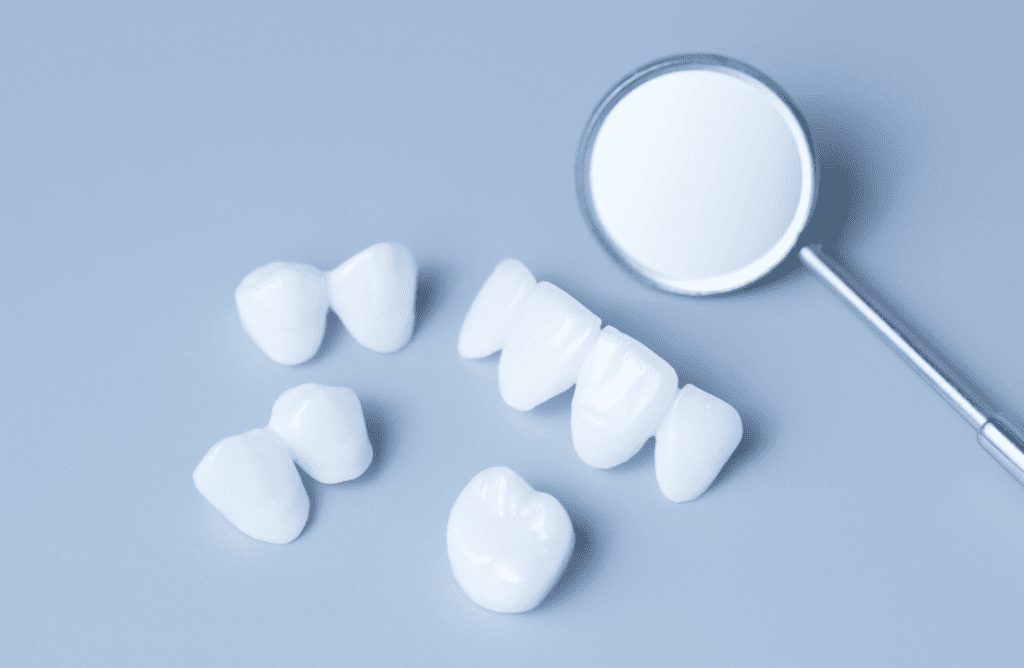 What Do Dental Veneers Fix?
Porcelain veneers are used to treat:
Chipped and cracked teeth
Misalignment
Discoloration
Irregularly shaped teeth
Gaps between teeth
Worn teeth
They also offer many benefits to patients, as veneers:
Look and feel natural
Brighten the appearance of teeth
Resist stains
Do not damage gums
Offer a conservative approach
Call 317.204.7134 if you believe you would benefit from porcelain veneers. Patients who wish to improve the aesthetics of their smile find that dental veneers are an excellent permanent restoration.
Treatment with Porcelain Veneers
Prior to treatment, Dr. Ahlbrecht or one of his colleagues will review your oral health and assess your teeth and gums. We conduct this evaluation to make sure that this cosmetic treatment aligns with your particular needs.
To prepare your teeth for the veneers, Dr. Ahlbrecht will remove a small layer of tooth enamel. We do this to create room for the veneers and provide a better bonding surface.
CEREC is then used to take impressions of teeth. This technology utilizes digital impressions to help fabricate porcelain veneers and customize them to each and every patient.
After the veneers are fabricated, they will be bonded to teeth. Dr. Ahlbrecht will ensure that they fit comfortably onto the affected tooth or teeth.
Porcelain veneers FAQs
Can you chew with porcelain veneers?
Patients with porcelain veneers can chew normally. However, they should avoid extremely sticky or chewy foods that get easily caught between the veneers. Veneers are generally very durable and act as normal teeth when eating and chewing.
How long do porcelain veneers last?
Porcelain veneers generally last anywhere from 10-30 years. Their lifespan is dependent on how you care for them. Veneers are not indestructible, so you must be careful and take good care of them.
Can veneers fall off?
Veneers may fall off if you clench or grind your teeth too much. We do not recommend putting extreme pressure on your veneers for extended times. Wearing a night guard to protect against grinding is a good way to combat this if you know you are prone to grind or clench your teeth.
What can you not do with porcelain veneers?
We recommend that patients with porcelain veneers avoid eating particularly hard or chewy foods. This includes chewing ice and hard or sticky candy. Patients should also avoid foods and drinks that stain, such as coffee, soda, berries, tomatoes, etc.
Do porcelain veneers break easily?
Porcelain veneers are very strong; however, they are less durable than natural tooth enamel. Although veneers are durable, they are more prone to break or chip than natural teeth. So it is important to be very careful when chewing with them.
Is it painful to get porcelain veneers?
In most cases, patients report little to no pain during the procedure for porcelain veneers. The procedure for veneers is minimally invasive, so it is typically a very easy pain-free procedure.
Schedule a Dental Exam Today
Do you want to revamp your smile? Try porcelain veneers for long-lasting and beautiful results.
Contact North Meridian Dental Excellence in Indianapolis at 317.204.7134. Feel free to schedule a consultation on our website. Our office accepts multiple payment and insurance options and works with patients to answer any questions they may have about their coverage and finance.