Dr. Ben Ahlbrecht and his team welcome patients of all ages to our modern dentist office, North Meridian Dental Excellence. We serve patients near Carmel, Meridian, and Indianapolis, IN. Our staff's mission is to provide high-quality, long-lasting dental care in an inviting and relaxed environment. The in-depth approach we take to dentistry ensures that patients receive treatments that pinpoint their problem and solve it the first time.
Our dental care team is committed to continuing education courses to increase their knowledge of the latest technology and techniques in modern dentistry. Dr. Ahlbrecht is a member of the American Dental Association, American Academy of Cosmetic Dentistry, Indiana Dental Association, and Indiana District Dental Society.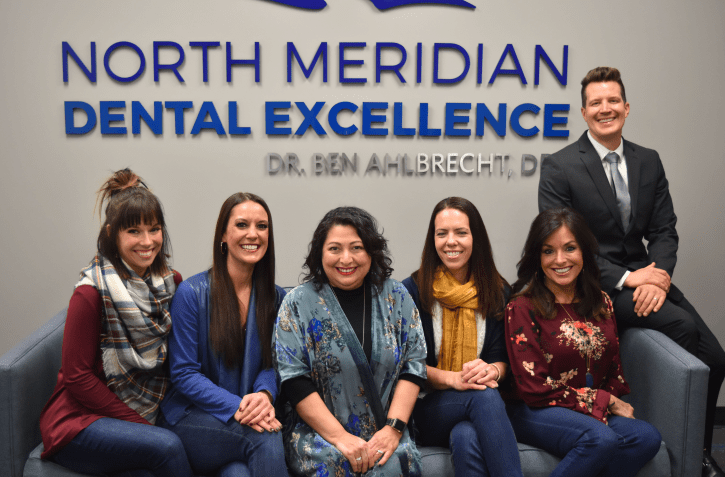 Dr. Ahlbrecht, our dentist in Indianapolis, IN, treats all types of dental needs:
If you have any questions about treatment, ask one of our staff members. They will clarify any concerns about treatment or queries about the different dental services offered in our office.
The Dawson Academy Difference
Dr. Ahlbrecht has advanced training from the Dawson Academy, one of dentistry's premier institutions for post-graduate coursework focused on the concepts of occlusion and a comprehensive diagnostic approach to your care. Using the Dawson principles of Complete Dentistry, Dr. Ahlbrecht takes into consideration all aspects of your oral health, including the jaw joints.
Known as Complete Dentistry, the Dawson Academy approach is designed to improve both the patient experience and the stability of results by identifying the root cause of common and complex dental health concerns.
Modern Technology and Dental Services
Our Indianapolis office is equipped with contemporary solutions to long-established problems. Discover what we have to offer below:
CEREC
CEREC® is an advanced digital imaging system that is used to create ceramic inlays, onlays, porcelain veneers, and dental crowns. This technology is comprised of computer-assisted design and manufacturing (CAD/CAM) tools. In addition, it uses a milling machine to create custom ceramic restorative devices.
Before treatment, one of our dentists will take several different images of the affected tooth or teeth receiving a restoration. Once the design is complete, a block of ceramic will be inserted into the machine to create your restoration. When complete, it will be permanently affixed to your tooth.
Electronic Hand-pieces
Electronic hand-pieces are a quieter option than traditional dental technologies. They provide increased speed and torque for dentists so that procedures can be completed in a more timely manner. Furthermore, electronic hand-pieces are efficient and convenient in that they benefit both patients and dentists.
Laser Dentistry
This comfortable option is utilized to treat gums efficiently and safely. Our soft-tissue lasers treat periodontal disease for a deeper cleaning. Scaling and root planing are treatments that are used in conjunction with one another to clean beneath the gums and remove the infection.
Invisalign
Receive straighter and more uniform teeth with Invisalign. This popular option can straighten crooked teeth faster than conventional braces. An overbite, underbite, tooth crowding, malocclusion, or gaps between teeth may be fixed with Invisalign. Each set of custom clear aligners that you receive will be worn for one to two weeks.
Professional Teeth Whitening
Our in-office and take-home whitening solutions are quick and convenient. Say goodbye to stained, discolored, and yellowed teeth by brightening your smile in our office or in the comfort of your own home. Following treatment, it is important to refrain from smoking, tobacco use, and eating or drinking food and drinks that stain teeth. Touch-ups are usually needed to help preserve results.
Schedule a Dental Exam Today
Are you looking for a new dentist office on the North side of Indianapolis? Be sure also to check out patient testimonials for inspiration. Call North Meridian Dental Excellence at 317.204.7134 or schedule an appointment with us online today.