In the event of a dental emergency, call North Meridian Dental Excellence at 317.204.7134.
Dr. Ben Ahlbrecht and his professional dental team offer emergency dental services in Indianapolis, IN. Whether you have lost a tooth or have a toothache, our staff will discover the right treatment option for you.
We are committed to finding solutions to dental problems using advanced modern technology. Our experienced dentists perform with a  high standard of care to ensure that patients have happier and healthier smiles. Handling dental emergencies is one of the general dentistry services we provide at North Meridian Dental Excellence.
Common Dental Emergencies
If you are not sure that you are having a dental emergency, call our office. We will help you determine the cause of your problem and will find a solution. Dental emergencies often fall under these categories:
A chipped or fractured tooth
Tooth abscess
Gum or tooth infection
A knocked-out tooth
Severe toothache
Broken or lost dental restoration
We work with patients to help restore their smiles and provide long-lasting results. Our dentists are passionate about giving comfortable and comprehensive care in the Carmel, Meridian Hills, and Indianapolis areas.
Emergency Dental Services
We offer multiple treatment options to restore patient's smiles in our Indianapolis office. Our professional team:
Repairs chipped, cracked, or fractured teeth
Repairs and replaces dental fillings and crowns
Provides emergency tooth extraction
Fights tooth infections
Treats gum swelling
Relieves tooth pain
Provides dental implants to replace lost teeth
If any of these services are relevant to you, call our dentist in Indianapolis, Indiana at 317.204.7134. Our staff will work quickly to find an appointment opening.
Emergency Dentistry FAQs
Learn the answers to frequently asked questions about our emergency services:
What do I do if I am feeling tooth pain?
You can take an over the counter pain reliever to improve symptoms. In severe cases, your pain may be caused by tooth decay or an abscess. Schedule an appointment with North Meridian Dental Excellence if pain persists. If you are experiencing swelling, apply a cold compress.
What do I do if a tooth gets knocked out?
If your tooth has been knocked out call our dentist's office immediately. If possible, retrieve the lost tooth. Lightly rinse the tooth and place it in a cup of saliva or milk to transport it to us. A tooth that is preserved like this may be able to be replaced within one hour of loss.
How do I treat bleeding?
Minor lacerations can bleed easily. Apply pressure to the area with a clean cloth. Call our office for immediate treatment or go to the emergency room if we are not able to schedule an immediate appointment.
What do I do if my dental crown falls out or breaks?
Contact our office and one of our dentists will be able to construct and fit you with a new dental restoration. Do not attempt to reattach the crown back on in any way.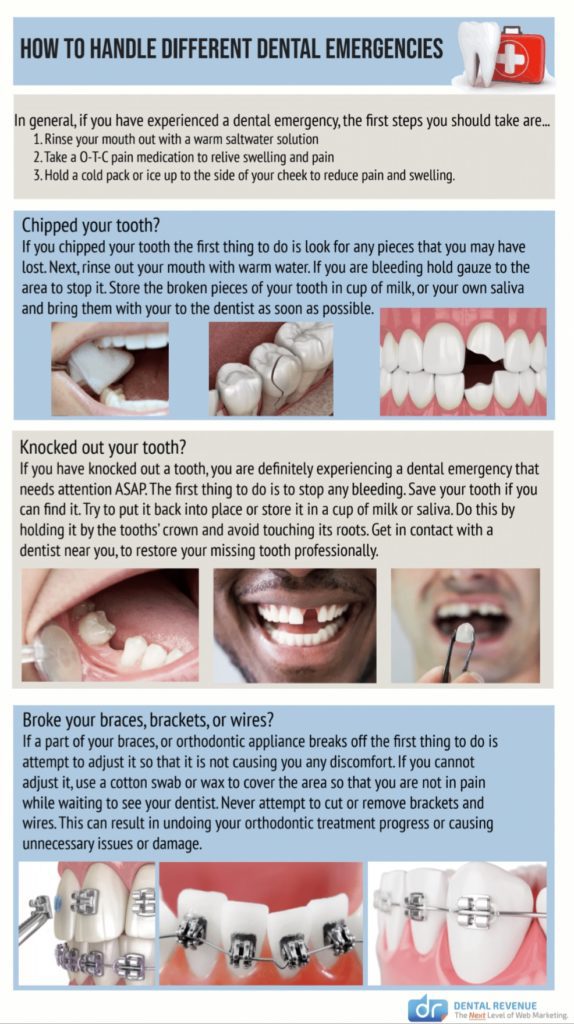 What is the most common dental emergency?
The most frequent dental emergency is a toothache. There are a number of probable causes, including tooth decay or teeth grinding. You can check your mouth for any food or other debris that may be irritating your teeth by rinsing your mouth with warm water and flossing the area to remove it.
Is a cracked tooth an emergency?
A cracked tooth is considered a dental emergency. Cracked teeth are one of the most common dental emergencies. If your tooth has cracked it is advised to save any pieces so we can repair it as best as possible.
What happens if you leave a cracked tooth untreated?
The pulp and other tissues within a broken tooth might get infected if the crack is not repaired. This raises the risk of losing the tooth. It is important to remember that the earlier you take action to stop the fracture from spreading, it will relieve your discomfort, and ultimately aid in saving your tooth.
How do you handle a dental emergency?
Keep any pieces of cracked teeth that you can, if applicable. Warm water is ideal for rinsing the mouth and removing any foreign objects. Gauze should be applied to the region for about 10 minutes, or until the bleeding has stopped.
To reduce swelling and ease discomfort, place a cool compress on the exterior of the mouth, cheek, or lip near the broken or chipped tooth. Get in to see your dentist as soon as possible.
Schedule a Dental Exam Today
You can call North Meridian Dental Excellence for relaxing care at 317.204.7134. You can also contact us on our website. If you have any further inquiries about the treatments and services we offer, a member of our staff will gladly help you.