Do you have severely stained teeth? Maybe you want to strengthen a weak tooth. Dr. Ben Ahlbrecht provides dental crowns in Indianapolis, IN. Tooth crowns are one of the restorative dentistry treatments Dr. Ahlbrecht provides to the public.  He uses dental crowns at North Meridian Dental Excellence to address damaged, misshapen, or discolored teeth. They can also cover dental implants or hold dental bridges in place. A tooth crown can make a broken tooth look like a natural tooth again. They provide long-term solutions to individual cracked or stained teeth.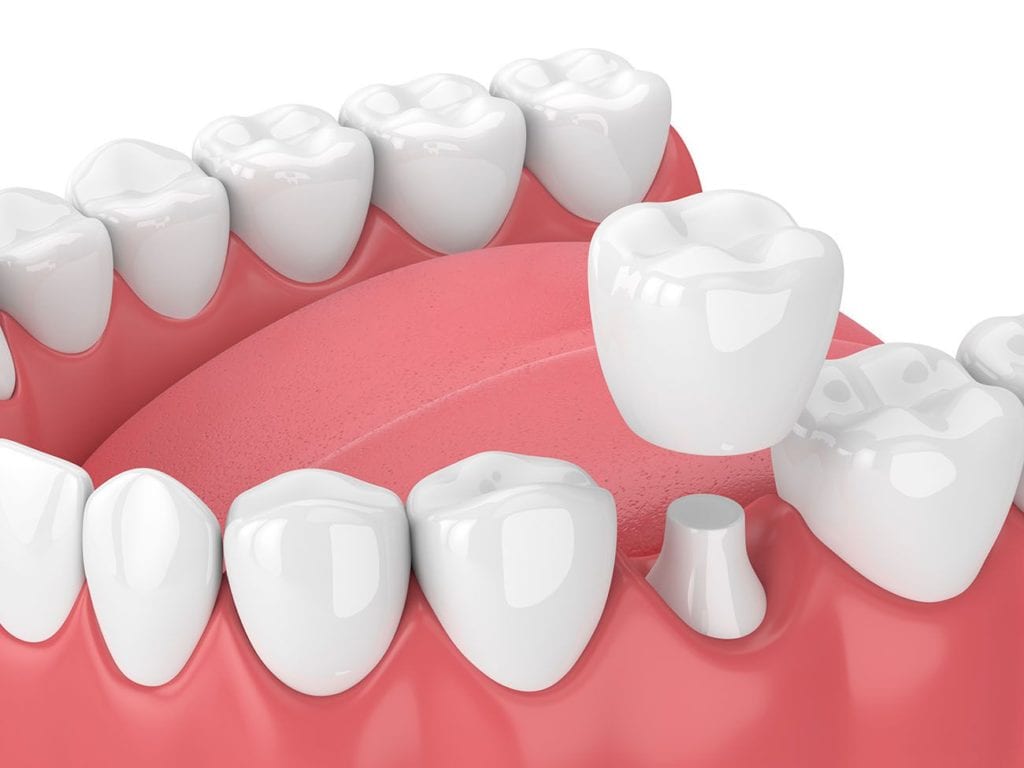 What is a Dental Crown?
A dental crown is a fixed dental restoration. It will cover the entire tooth like a cap. Your dentist will permanently bond it into place after preparing the tooth. To prepare the tooth, the dentist will numb the area around the tooth. Then he will remove any old crowns, fillings, decay, or damage from the tooth. He will significantly reduce the size of the tooth leaving behind enough to secure the crown.
What are Dental Crowns Made Out Of
Your dentist can make a dental crown from sturdy porcelain ceramic material. It will strengthen weak teeth and blend in with your remaining natural teeth. Dental crowns are custom fit to each patient. We can typically complete yours in one visit using CEREC technology. Dr. Ahlbrecht also places traditional ceramic and gold crowns depending on your needs and aesthetic goals.
CEREC Same-day Dentistry For Tooth Crowns
Patients can often receive same-day dental crowns using CEREC (Chairside Economical Restoration of Esthetic Ceramics, or Ceramic REConstruction). This CAD/CAM technology allows us to create digital impressions of your teeth and then fabricate a dental crown quickly and efficiently.
With CEREC there are no messy impressions trays, no temporary crowns, and no return visits. Schedule a consultation with Dr. Ahlbrecht to see if you are a candidate for same-day dental crowns with CEREC.
Dental Crown FAQs
Learn the answers to frequently asked questions about dental crowns below:
How long do dental crowns last?
With proper dental care, dental crowns can last up to 30 years. Follow all instructions given to you by your dentist. Keeping a good daily routine of oral hygiene and a regular dental care schedule will guarantee long-lasting crowns.
Am I a candidate for dental crowns?
Patients that still have the tooth root intact can receive dental crowns. If you have missing teeth you may also receive dental implants, dentures, or dental bridges that can be capped off with dental crowns. Patients with tooth decay may need treatment, but they can receive dental crowns after the dentist removes the infection.
Is it painful to receive dental crowns?
The dental crown procedure is typically not painful. Dr. Ahlbrecht uses a local anesthetic to numb the area, so the procedure should not be painful. You may feel some soreness after the procedure, but this should subside after a day. You can manage it with over-the-counter pain medication.
Can dental crowns fall out?
Dental crowns can come loose as a result of tooth damage or decay. If you notice any changes in the fit or comfort of your crown, contact our Indianapolis dentist office right away. We will schedule an appointment for you where the dentist will either try to reattach it or make plans to create a new one.
---
Schedule a Dental Exam Today
North Meridian Dental Excellence at 317.204.7134 or request a consultation with our professional team today. We welcome new patients of all ages and can meet your needs in a caring, compassionate environment.