Mouthguards should be worn for contact sports, like basketball, soccer, and lacrosse, where players may be hit by a ball or other players. This year alone, it is estimated that more than 5 million teeth will be knocked out due to sports.
However, according to the American Dental Association, sports mouthguards can prevent over 200,000 tooth injuries. Professional custom-fit sports mouthguards can prevent people from having to resort to solutions such as dental crowns or tooth bonding for cracked and chipped teeth. They may also prevent missing teeth and the need for restorative treatments.
Dr. Ben Ahlbrecht, our dentist in Indianapolis, IN, and the team at North Meridian Dental Excellence, offers custom sports mouthguards in Indianapolis, IN. This general dental solution protects teeth from hits and injuries to the mouth. Learn about the different benefits of mouthguards below: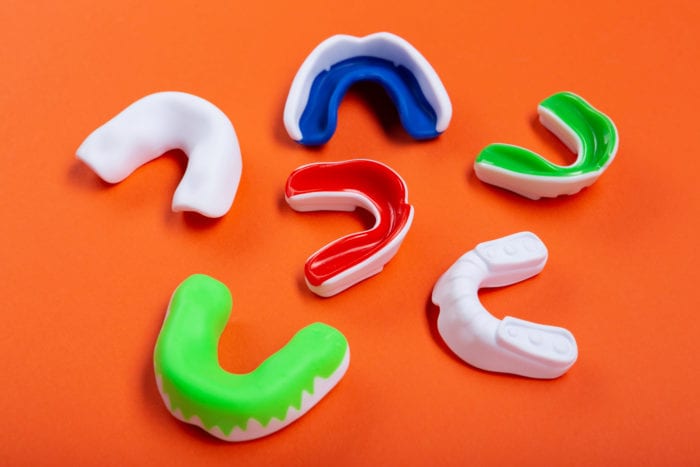 Treatment with Custom Mouthguards
To create a mouth guard, dental impressions are taken of teeth to ensure a custom fit. Once Dr. Ahlbrecht and his team receive the completed mouthguard from the lab, it should be cleaned regularly with an antibacterial solution and thoroughly cleaned monthly. Routine care like this prevents bacteria growth and keeps the appliance fresh for regular use.
Benefits of Mouthguards
A good-fitting mouthguard can:
Prevent knocked-out teeth
Minimize the risk of injury to soft tissues in the mouth
Reduce the chance of contact sports-related concussions
Protect the lower jaw from trauma
Allow the wearer to speak clearly
Provide a secure and stable fit
Reduce stress on the neck
Prevent chipped and damaged teeth
In comparison, over-the-counter mouthguards often do not provide a custom fit and can easily fall out during sports. They may also not be as comfortable as custom professional mouthguards. Our professional mouthguard easily conforms to teeth for a good and balanced fit.
Custom Mouthguards FAQs
Can I drink water with a mouthguard?
You may drink water with a mouthguard in, but you should avoid any other drinks while wearing your mouthguard. Patients should clean and brush their mouthguards before and after every use to remove any bacteria. Drinks with added sugars can damage your mouthguard.
How long do night mouthguards last?
On average, night guards last between 5-10 years. The lifespan of a night guard varies based on the patient's oral care and teeth-grinding habits. Night guards are used to relieving teeth-grinding symptoms and prevent damage at night while sleeping.
Can I soak my mouthguard in mouthwash?
Most patients soak their mouthguards in water. If you choose to use mouthwash to clean your mouthguard, be sure to only dip it in and then rinse it with water. If you soak it for a long time or leftover mouthwash is left on the mouthguard, it can cause unrepairable damage.
Schedule a Dental Exam Today
Do you need a custom mouthguard to wear during contact sports? Call our Indianapolis, IN office at 317.204.7134. Schedule an appointment with North Meridian Dental Excellence for comprehensive and professional dental care. Our professional dentists are dedicated to personalizing treatment to fit each patient's individual needs, budget, and goals.